Oktoberfest KNRF Fundraiser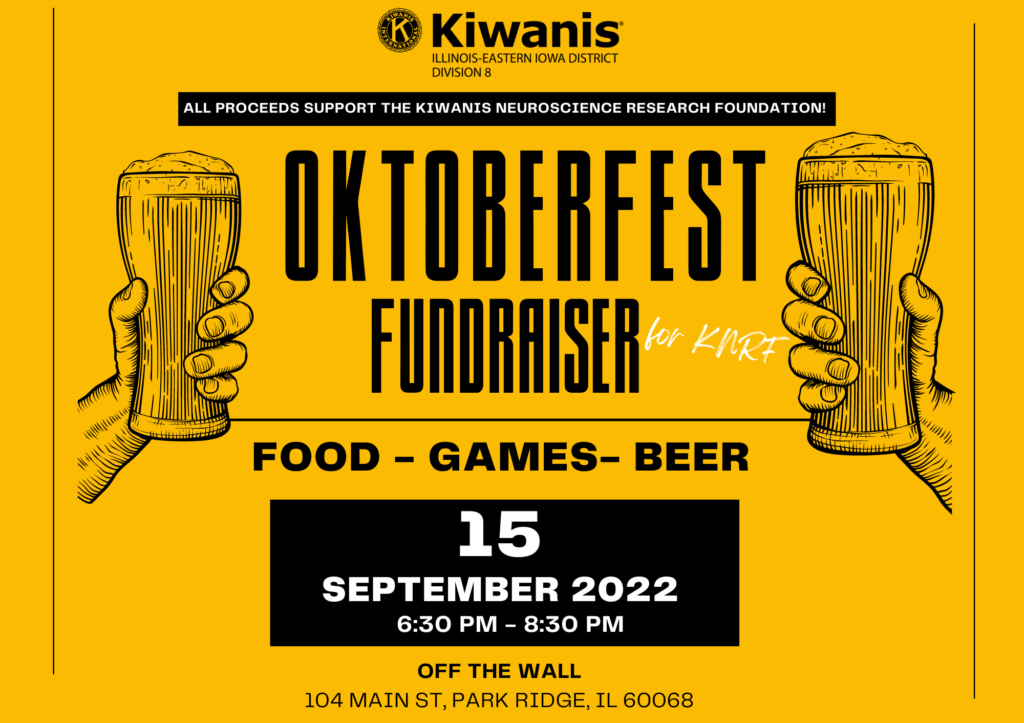 Join the Kiwanis Illinois Eastern Iowa Division 8 for Oktoberfest! All proceeds support the Kiwanis Neuroscience Research Foundation.
Thursday, September 15th, 6:30 PM – 8:30 PM
104 Main St, Park Ridge, IL 60068
Register by Friday, September 9th!
Join us for food, drinks, and games provided by Off the Wall. All ages are invited, including kids!
Tickets
4 ticket options are available. Each package includes a brat, soft pretzel, and potato pancakes:
Beer Tasting: (1) 4x4oz tasting — $40
Beer Tasting + Pint: (1) 4x4oz tasting + (1) 16oz Pint — $45
Designated Driver/Kids Package: (1) Soda or Seltzer Water — $25
For the Non Beer Lover: (1) Wine or Cocktail — $40
About KNRF
The Kiwanis Neuroscience Research Foundation (KNRF) was organized in 1952. The purpose of the Foundation is to provide financial grants to top-level researchers specializing in diseases of the central nervous system. Typical grants are pledged for $20,000 a year over a 3-5 year period. Grants are given to the researcher, not the institution, with direction that the funds are not to be applied to the administrative costs of the institution, but specifically to the cost of the project. The annual grant budget for the Foundation is about $250,000 annually.
What is Neuroscience?
Neuroscience Research has included studying diseases such as brain tumors, spina bifida, Alzheimer, genetic causes of mental retardation such as fragile x syndrome, fetal alcohol syndrome, stroke rehabilitation, neonatal care and developmental disabilities of prematurely born infants. Other research has been purely scientific in the development of medical equipment and techniques used to study the nervous system.
Learn About Mila's Story
Check out Mila's story and how the research performed by Dr. Robin Bowman, researcher with the Kiwanis Neuroscience Research Foundation, helped repair Mila's spina bifida before birth.
Questions or want to make a donation?
Email [email protected]!
Registration Closed